I read, I realize now, a great many memoirs, beginning with Anne Frank's Diaries and I Never Promised You a Rose Garden by Hannah Green [Joanne Greenberg], and right through recent best sellers. An essay on the Brevity blog defends the memoir against accusations of "misery porn." Judging from my recent history, I am on that writer's side.
On the other hand . . . she had warts.
On the other hand, I want more than even a well-written narrative of suffering. I want humor. I want objectivity earned through humility and suffering. I want wisdom beyond complaint. Growth. Insight. There are plenty of memoirs that offer all that. And not a few that fail.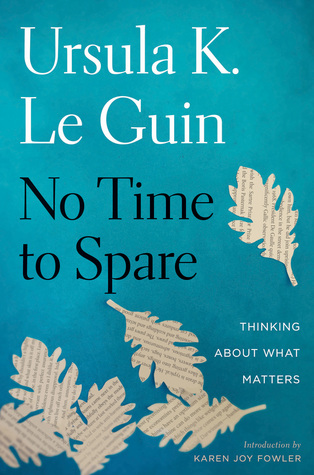 Of the 66 books I read this year, several were memoirs or biographies. Of those, I managed to completely forget some. A Scientology surviver managed to bore me. A novelization of Dorothea Lange's life was so awful I had to stop reading it. A collection of essays, introductions, and random notes by a favorite poet offered little to love, while Marilyn Chin's new collection was quite marvelous. Ursula K. Le Guin's No Time to Spare was a highlight, moving in ways that should not have surprised me. Ursula always had something valuable to offer an audience. Reading Lucia Perillo's work makes me sorrow for her too-short life. Mazzeo's book about Eliza Hamilton failed to decide whether it wanted to be bio or fiction. And though I am generally a fan of Joan Didion, her elitist attitude in Slouching Toward Bethlehem irritated me. (She goes to the grocery store barefoot and in a bikini and is incensed that someone has the nerve to be offended? Well, yes, in that time, it would indeed have been offensive, no matter who you thought you were.)
Sadly, Pat Barker and Emily Wilson failed to impress me with their books of Homer. Madeline Miller, by contrast, completely astounded me with Circe.
In nonfiction, none was more impressive than Essential Essays: Culture, Politics, and the Art of Poetry by Adrienne Rich. I hardly know what to say. A 1997 speech explains the history of "identity politics" and how we must continue to find ourselves not only as individuals but as members of communities, that believing we exist as consumers in the marketplace fails us in ways that anyone alive and paying attention today will recognize. She was always ahead of her time.
But it is the novels that struck me this year, beginning with Circe. This is one of three books I hope to reread. Bette Husted's novel knocked me down. Hild by Nicola Griffith is another. It made a huge impression on me for the way it reveals a brilliant mind in a long-ago time. Like Circe, Hild is shown doing what a woman in her position and living in her time would do, the day-to-day details, without diminishing how she wrestles with her dangerous situation.
Hild searches for pattern, for the warp and weft of her time, of the people and weather and the others living around her—birds and deer and the small shrews. From an endangered family, in a time when men in power can do anything, anything at all, Hild at 3 is already aware of how the light might fall just so and make her dead. How she stays alive, as an un-pretty child and then a sexually aware young woman, how she uses her blade, her understanding—this alone would make a powerful story. But Hild is more than that. She lives through transitions of Christianity and change, the clash of armies and of the secret powers of woman and priests.
She sees mor
e in an instant than others will ever understand.
I recognize that people struggle with the names (of mostly real people, so the naming is not up to the author) and details (of ancient lives) but it is rare that a writer so fully captures the daily texture as well as the swordfights and trauma of any time, much less one so distant.
This is one of the great ones, one of those books I dwell on for a long time after because I cannot imagine having written it but desperately wish I had.
Historical fiction is challenging to both write and read. It must assume knowledge (and ignorance) on the part of readers while world-building in alignment with history. I know a great deal about the crafts detailed in this book and I am an unapologetic critic when writers get the history or details wrong. (As Pat Barker does in her new novel about ancient Greece.) I would have her metalsmith show Hild how to draw wire, but what is revealed here about crops and croft feels entirely authentic. The texture and flavor in these pages allowed me to trust the near-magic of Hild's weaving.
Have I mentioned I love this book? There was a line I have been quoting: "Men are afraid women will laugh at them. Women are afraid men will kill them."
Next volume please.
Closer to home in setting (though not in miles) is Oregon author Bette Husted's All Coyote's Children. Bette is a friend and I always read her work with interest, but this novel marks a turning point for me.
One morning, my husband and I walked a long ways north before turning for home. I had been reading All Coyote's Children before we fell asleep and again that morning. Once we were home from our walk I read after breakfast and during the day between doing other things. Some books you don't want to end, but you also cannot bear to set down.
Gorgeous, elegant, heartfelt prose right from the beginning. There is a gradual release of information, of facts in this story of a family in recovery, which I admire a great deal. I appreciate a story that focuses on recovery after the fall rather than the fall itself. Everyone falls. Not everyone gets back up.
This is one of those books you want to hand to people, to friends and loved ones and people you barely know.
There is a reconciliation in these pages, tenderness and glory. I have a lump in my throat and tears in my eyes and I just want to sit back down and read it again because "sometimes a piece of story breaks off and rides the wind, and even if you close your eyes you know it's going to find you. You hear it coming."
There is confusion in the beginning, a reflection of Annie Fallon's confusion after the death of her husband. These are loving, flawed, believable people making mistakes, doing the best they know how, and messing up sometimes. The complete story of this family is a long time coming and it is revealed in community. Lately I've thought a lot about community. The scientific evidence is mounting that the sort of relationships Husted develops in this novel are what most of us living in the "modern world" are missing. Missing all that connection to history and people and the very land itself might be what is killing us.
This novel provides a powerful reminder of the cure for what ails us.
I would like to see this taught in high schools. The story itself is strong, the history is solid, and the redemption it accomplishes is unique. It is an extraordinary story, a beautiful and important one about how we come to terms with history and landscape, family and obligation.
I read for love of reading, but also as a writer. So Circe, Hild, and All Coyote's Children want another look.
Speaking of rereading, this was also the year I restarted an old habit of reading aloud to my husband. We began the Patrick O'Brian Aubrey/Maturin series a few weeks ago. It is my third reading, and I am impressed all over again. We are already on book 4, The Mauritius Command, and unlikely to finish it before New Year's. There are twenty books in the series, and I read a few pages at a time, mostly while he drives or while we are in bed. Next year . . .
I read newspapers each morning, magazines, literary journals. I read some terrific books this year and wish I had time for more. I am not a fast, but a determined reader. I have selected a few books for their structure, but mostly I read what I love, the sorts of books I wish I had written.
There is just one essay left of Rich's Essential Essays and I will be sorry to finish the collection, making it the last completed book for my year of reading.