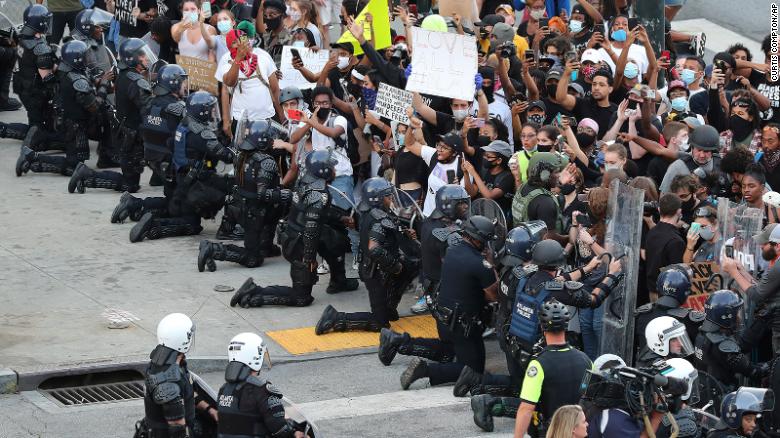 (CNN) "Americans have been protesting the death of George Floyd at the hands of Minneapolis police for days on end in dozens of cities throughout the United States.
"While tensions between police and demonstrators have heated up in many places, some officers have shown solidarity with the movement by hugging protesters, praying with them, mourning with them, and taking a knee to honor Floyd." 
. . . and another: " 'In that moment, it wasn't about kneeling to appease anybody,' an officer said. 'I was kneeling because I wanted to show my people I'm with them in solidarity. … It would have ate me up if those protesters were like, "Kneel with us, kneel with us," and I said, "No." It would have ate me up.' " They knelt in Santa Cruz, California and Portland, Oregon, in Des Moines, Iowa and Washington DC, in Flint, Michigan and Spokane, Washington, in Germantown, Maryland and Coral Gables, Florida. And protesters thanked them, blessed them because their mission is to protect and serve. "Walk with us!" the public said to police officers all over our nation. They bowed their heads in thanks and walked in pride.
Respect.
---
more . . .
The Washington Post Editorial: "Even amid the tear gas, the rubber bullets, the sirens, the fires, the standoffs, the looting, the "vicious dogs" and "ominous weapons," the best of America has been visible. People who were angry and scared have acted with peace and compassion, defusing situations by protecting and embracing — sometimes literally — those whom others in their position might have feared."
And a voice of justice and compassion "Biden, in speech to the nation, denounces President Trump's actions against protesters and vows to heal racial wounds" He reminded me what national leadership sounds like.
"With malice toward none, with charity for all, with firmness in the right as God gives us to see the right, let us strive on to finish the work we are in, to bind up the nation's wounds, to care for him who shall have borne the battle and for his widow and his orphan, to do all which may achieve and cherish a just and lasting peace among ourselves and with all nations."—Abraham Lincoln
https://www.washingtonpost.com/video/opinions/opinion–this-is-propaganda/2020/06/02/aa178cd0-875f-4f1f-9ced-ba1dee619078_video.html